Making the grade to Cokeville, prior to 1916.

Notwithstanding the railroad growth of Cokeville was held held back by a lack of decent roads to Star Valley to the north. A road had been opened northward into the Star Valley in 1890. But the old road had grades of 20.5 % on the south side of the divide between Smith's Fork and the Star Valley. On the north side it was an even steeper 22%. As late as 1915, there was no mail contract to carry mail from Cokeville to Afton. It was shipped instead from Montpelier. Even though the towns to the north were a part of Lincoln County, their trade was with Idaho.

In 1914, construction of a new road to Star Valley was commenced using convict labor. In Salt Creek Canyon, the state constructed a convict camp. By 1916, the road had reached the convict camp and Governor Kendrick was able to have dinner there. Two years before, his Republican opponent, the Honorable Hilliard S. Ridgely, had to hire a team to visit the northern part of the county.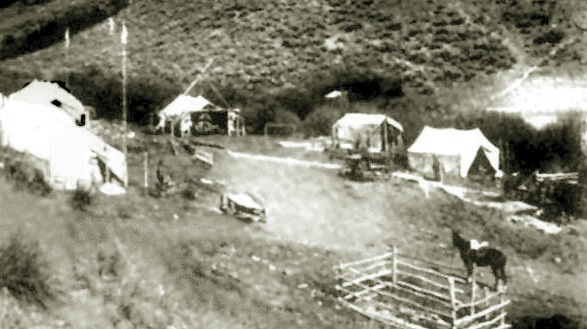 Salt Creek Canyon Convict Camp, approx. 1918.
In 1917 construction of the new road was still underway. Z. F. Sevison, State Highway Engineer, reported:
No guards whatever were provided and it was customary to send the men alone to the nearest railroad point, a distance of 36 miles for supplies and to distant ranches for hay and feed. Guns and ammunition were furnished for hunting, also fishing tackle for trout fishing and a very considerable proportion of the fresh meat used at the camp was obtained in this way. The State board of charities and reform allowed each convict $5 per month for tobacco, etc.
During the past two years only two men have attempted to escape and in other years such attempts have been very infrequent. "Good Results with Convict Labor in Wyoming" 2 Good Roads, May 1919, p. 32
The number of escapes may have been an understatement. In 1916,the Cokeville Register reported four escapes from the camp in 1916.

Completed Cokeville-Star Valley Road approx. 1918.
The difficulty with the old road into Star Valley from Cokeville was not only the grades, but it was practically impassible in the winter. Attempts had been made at stage service since 1915. The Transportation company lost about $2,500 a year. In 1917, the Star Valley Independent, April 13, 1917, reported that the stage driver spend four days traversing eight miles.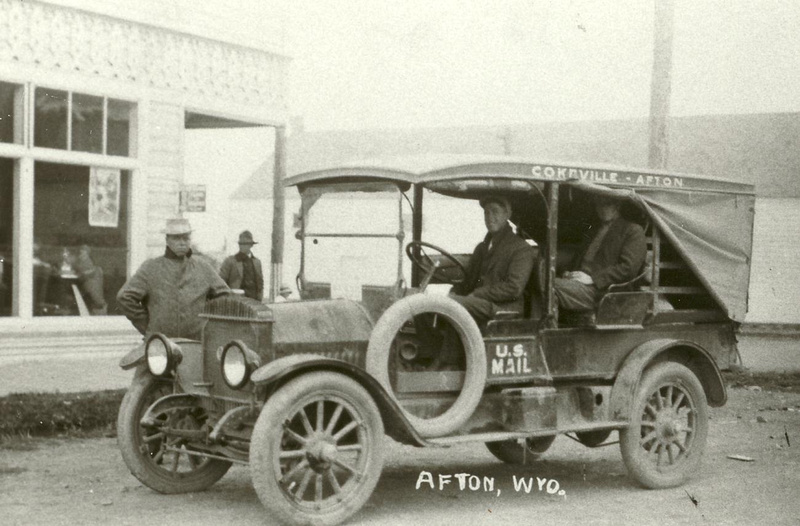 Cokeville-Star Valley Mail Stage, 1918.
Notwithstanding the completion of the road northward into the Sar Valley, Cokeville has grown but little. In the past 50 years the population has basically remained stagnent. In 1960 the population was 545. In 2010 it was 535, only 105 greater than in 1920. For most of its history it has remained, as depicted on the next page dependent upon wool and agriculture.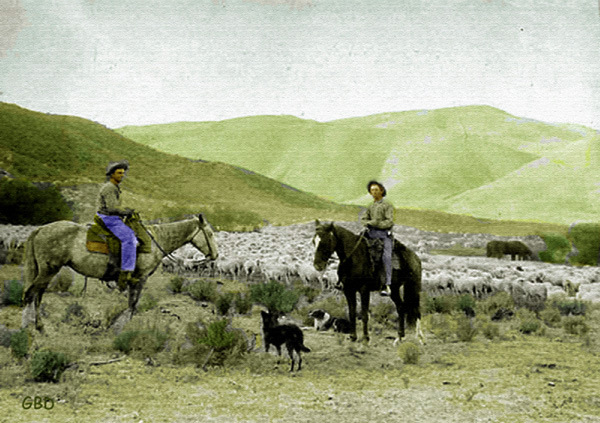 Sheepherders near Cokeville, approx. 1911.
Next page: Cokeville continued, the Whitney Brothers.