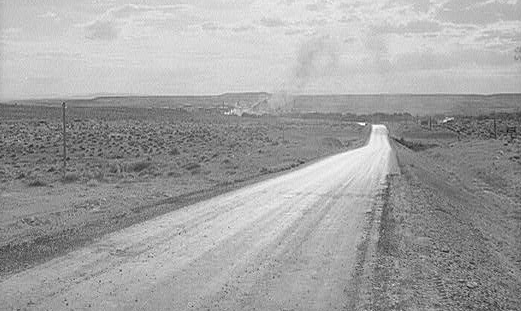 Greybull, 1941, photo by Marion Post Wolcott

For biographical information as to Marion Post Wolcott, see Sheridan.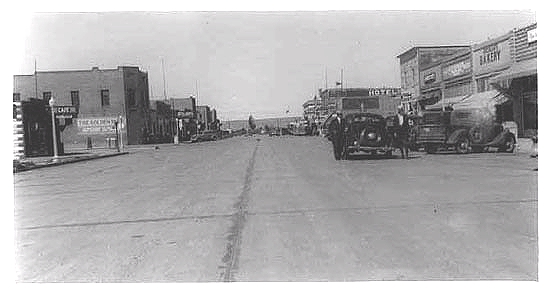 Greybull, 1938
Greybull and Shell are also noted as being the center of significant Jurassic and Cretaceous Period dinosaur deposits. In 1933, based on information furnished by by Mrs. M. L. Austin, an amateur fossil collector, Barnum Brown (1873-1963), uncovered a bone deposit on the Barker Howe Ranch near the base of the Bighorn Mountains. The following year, with financial support from the Sinclair Refining Company, Brown with Roland Thaxter Bird (1899-1978) returned to the site which proved to be one of the most significant beds of Sauropods in the world. As a result, Sinclair adopted the Dinosaur as its trademark. Dr. Brown developed a hypothosis that the concentration of bones was as a result of a massive disaster causing a desiccation of lakes and swamps. More recently, following a ten-year study of the Howe Ranch site, Kirby Siber, director of a dinosaur museum in Aathal, Switzerland, has reiterated the theory, indicating his belief that the site was caused by "a huge catastrophe" such as a hurricane, flood or similar natural event.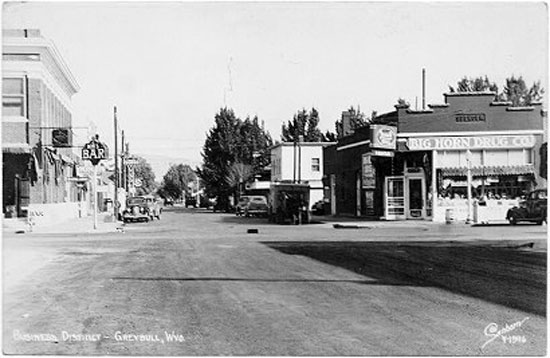 Intersection of Greybull Ave. and 6th Street (U.S. 20 and U.S. 14), looking north on 6th Street, Greybull, 1940. Photo by William P. Sanborn.
Compare with the next photo apparently taken moments apart. Note that that the cars and truck on 6th Street are in same position, but the automobile parked in front of the Big Horn Drug Store is missing in second photo.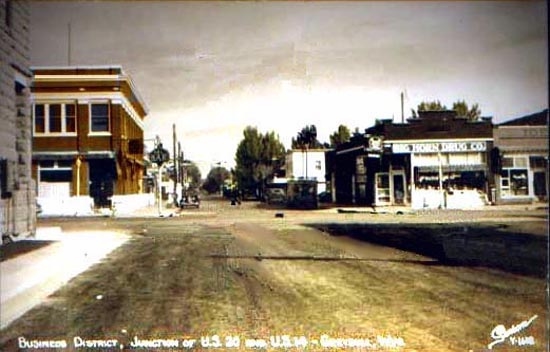 Intersection of Greybull Ave. and 6th Street (U.S. 20 and U.S. 14), looking north on 6th Street, Greybull, 1940
Compare the above scene with the next photo taken 16 years later.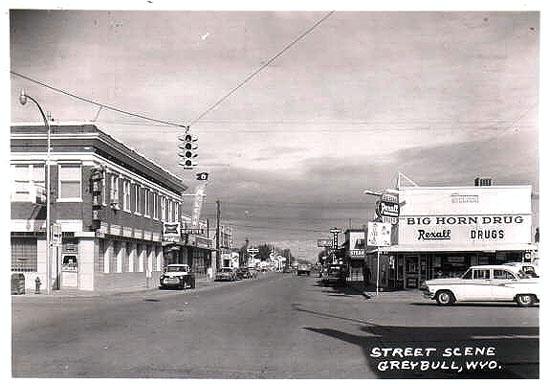 Greybull, 1956
In 1993 and 1994, as a result of a suggestion by Cody resident, Carol Hill, the Smithsonian dispatched its first dinosaur expedition since 1938. This resulted in discovery of additional deposits from both the Jurassic and Cretaceous Periods near Shell. In 1997 on Bureau of Land Management Lands eight miles east of Greybull, Erik Kvale discovered the Red Gulch Dinosaur Track Site, one of largest dinosaur track site in Wyoming and one of the few in the World from the Middle Jurassic Period (160-180 million years ago).
Both Brown and Bird were regarded as colorful. Brown conducted his field work in coat and tie. Bird explored for new deposits on his Harley-Davidson. Bird, self-taught, was the author of Bones for Barnum Brown: Adventures of a Dinosaur Hunter.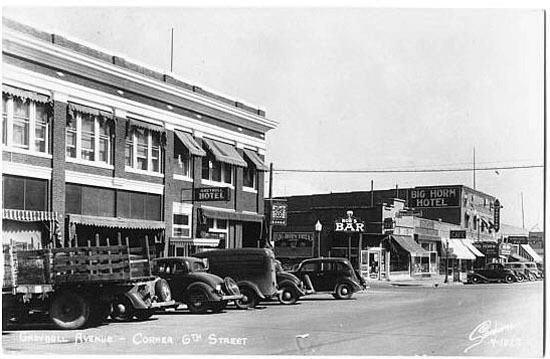 Intersection of Greybull Ave. and 6th Street, 1930's, looking east toward north side of Greybull Ave. Photo by William P. Sanborn.
The building closest to the viewer is the Greybull Hotel. Further down the street is Parker's Cafe, the Big Horn Hotel and the Gibraltar Big Horn Theater. Beyond the hotel and theatre is the Smoke House Bar and the J. C. Penney store (see next photo). Sanborn's van is parked between the two coupes in front of the Greybull Hotel.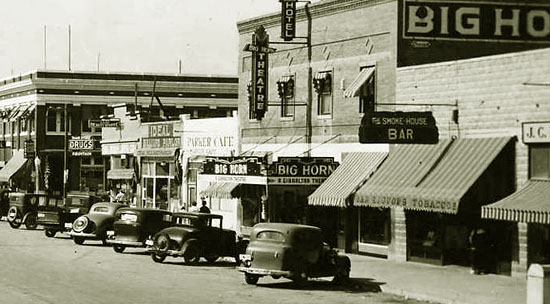 Gibraltar Big Horn Theatre and Big Horn Hotel, looking west toward north side of Greybull Ave, 1939.
The Big Horn Theater closed in 1961. The theatre was at one time owned by Gibraltar Enterprises, Inc. in Denver. Gibraltar owned about 12 theatres in New Mexico, Colorado, Nebraska, and Wyoming.
Next page: Worland