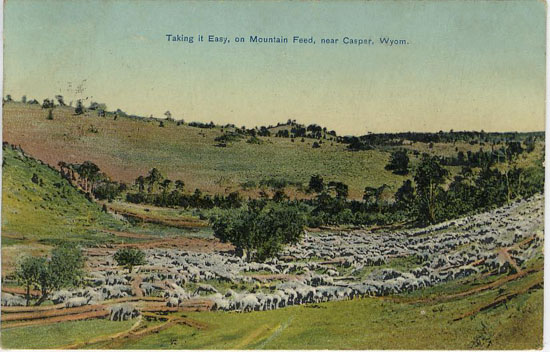 Summer feeding, 1912.
As in the instance of cattle, sheepherding progressed through the seasons. In Wyoming, flocks would graze on higher ground in the summer, and move to sheltered lower ground in the winter. In Spring was shearing season and lambing season.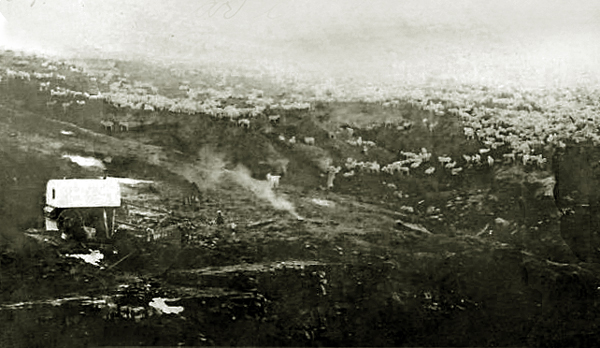 Winter Sheep Camp near Douglas, approx, 1912.
The different pastures might be as much as 150 miles apart. Sheep trails created problems in that the trails would be totally denuded as the sheep moved from one pasture to another much to the consternation of cattlemen. Lower ground might not necessarily provide protection against the elemens. In 1993 National Geographic photographr Richard Olsenius documented a drive 300 sheep over eight days by Wyoming rancher Bob Britain. Twenty ewes died leaving a number of lambs as orphans. The orphan lambs were taken into his trailer where in an attempt to alieviate the aroma the lambs were swaddled in disposable diapers.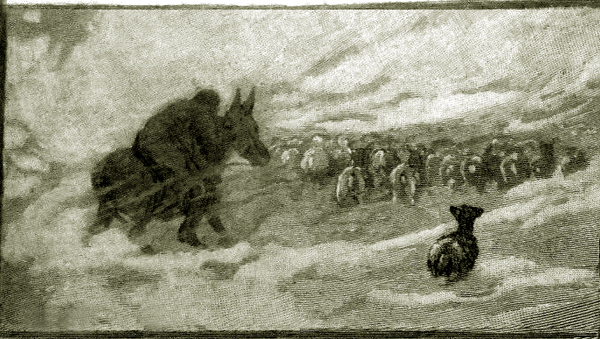 A Sheep herd on the Laramie Plains, Frank Leslie's Illustrated Newspaper, Feb. 17, 1883.
A late blizzard could be devasting to young lambs. Blizzards caused large losses of sheep in 1901, 1928 and 1929. During 1901 sheep were killed when they had taken refuge in railway cuts. Additionally several herders died in the storms.The estimated losses in 1929 an estimated 20,000 head were lost near Sheridan alone with 100,000 statewide. In 1949 some 129,000 sheep were lost.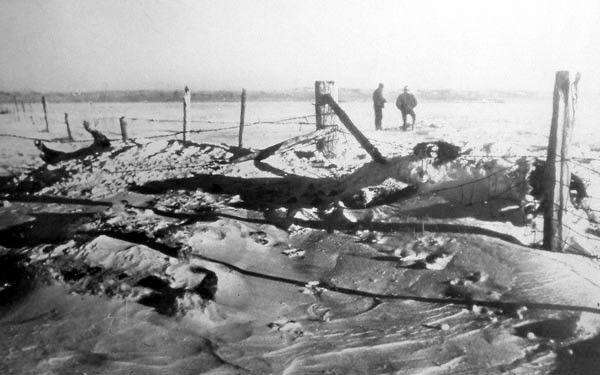 Sheep and a calf buried beneath snow, twenty miles north of Laramie, January 1949.
Am April blizzard in 1984 caused an estimated loss of $350,000 sheep across the West according to the American Sheep Producers Council. Losses were extensive in Wyoming. Richard Davis of Gillette who lost forty percent of his herd commented: ""you kind of like sheep or you wouldn't raise them, and hem to find them i n a pile like that is very sad."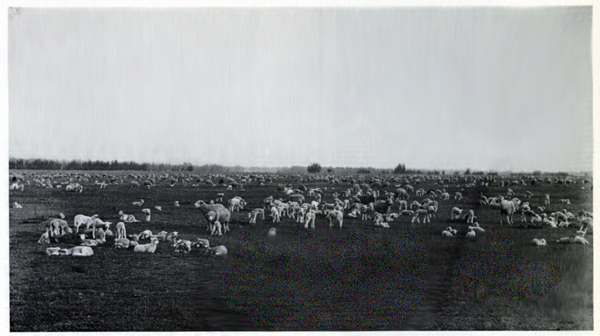 Lambing Camp on Powder River, 1886, Photo by L.A. Huffman.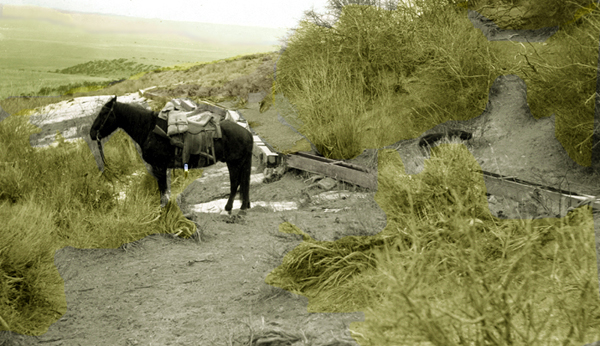 Troughs from a Lambing Camp, Sweetwater County, 1907.
The shallow wooden trough are portable and enable the ewes and young-born lambs to reach water without have to go far. The troughs would be filled either from tank wagons or from a nearby spring. While sheep generally do not need water, the new lambs do.

But wih Spring came shearing and lambing season. and the marking of the lambs. At first lambing was done in the open fields.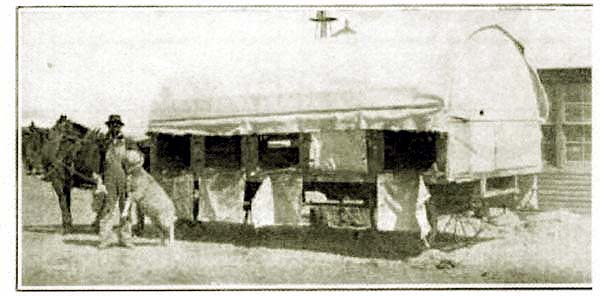 King Brothers Drop Wagon, 1921.
As indicated on a subsequent page, the King Brothers were one of the major producers of sheep in Wyoming. For those ewes giving birth on the way from the winter range to the home ranch, some such as the King Brothrs Ranch east of Laramie constucted "drop wagons." The "drop wagons" had as many as ten compartments in which the ewe and the young lamb could be placed to complete the journey to the home ranch.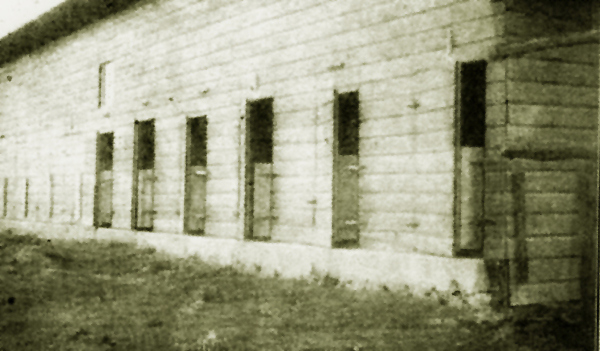 Edward J. Farlow Lambing Shed, Lander, 1918.
The concrete structures below the doors are shallow troughs enabling when the doors are open for the ewes to water. Rather than the ewes giving birth in the open, by the early 1900's many flock masters constructed lambng sheds in which ewes giving birth could be cared for. Flock masters discovered that through the use of lambing sheds survival rates for young lambs increased and overall profits increased by as much as ten percent.

Mrs. Stewart wrote of the daughter of settlers whose sympathies lay with the cattlemen:

The Edmonsons had only one child, a daughter, who was to have married a man whom her parents objected to solely because he was a sheep-man, while their sympathies were with the cattle-men, although they owned only a small bunch. To gain their consent the young man closed out his interest in sheep, at a loss, filed on a splendid piece of land near them, and built a little home for the girl he loved. Before they could get to town to be married Grandpa was stricken with rheumatism. Grandma was already almost past going on with it, so they postponed the marriage, and as that winter was particularly severe, the young man took charge of the Edmonson stock and kept them from starving. As soon as he was able he went for the license. Mrs. O'Shaughnessy and a neighbor were hunting some cattle that had wandered away and found the poor fellow shot in the back. He was not yet dead and told them it was urgently necessary for them to hurry him to the Edmonsons' and to get some one to perform the marriage ceremony as quickly as possible, for he could not live long. They told him such haste meant quicker death because he would bleed more; but he insisted, so they got a wagon and hurried all they could. But they could not outrun death. When he knew he could not live to reach home, he asked them to witness all he said. Everything he possessed he left to the girl he was to have married, and said he was the father of the little child that was to come. He begged them to befriend the poor girl he had to leave in such a condition, and to take the marriage license as evidence that he had tried to do right. The wagon was stopped so the jolting would not make death any harder, and there in the shadow of the great twin buttes he died. They took the body to the little home he had made, and Mrs. O'Shaughnessy went to the Edmonsons' to do what she could there. Poor Cora Jane didn't know how terrible a thing wounded pride is. She told her parents her misdeeds. They couldn't see that they were in any way to blame. They seemed to care nothing for her terrible sorrow nor for her weakened condition. All they could think of was that the child they had almost worshiped had disgraced them; so they told her to go.

Mrs. O'Shaughnessy took her to the home that had been prepared for her, where the poor body lay. Some way they got through those dark days, and then began the waiting for the little one to come. Poor Cora Jane said she would die then, and that she wanted to die, but she wanted the baby to know it was loved,--she wanted to leave something that should speak of that love when the child should come to understanding. So Mrs. O'Shaughnessy said they would make all its little clothes with every care, and they should tell of the love. Mrs. O'Shaughnessy is the daintiest needleworker I have ever seen; she was taught by the nuns at St. Catherine's in the "ould country." She was all patience with poor, unskilled Cora Jane, and the little outfit that was finally finished was dainty enough for a fairy. Little Cora Belle is so proud of it.

At last the time came and Mrs. O'Shaughnessy went after the parents. Long before, they had repented and were only too glad to go. The poor mother lived one day and night after the baby came. She laid the tiny thing in her mother's arms and told them to call her Cora Belle. She told them she gave them a pure little daughter in place of the sinful one they had lost.

The young man's house and lands were placed in the name of the infant daughter. Twelve years later, the grandparents, themselves, were raising sheep.

Next Page: Sheepherding continued, Sheep Shearing, Dipping, and Marking.