"/p>

Warren Livestock Company advertisement, 1888..
As previously suggested following the decline of the cattle industry, some of the great cattle companies turned to sheep. Among them were the Swan Land and Cattle Co., LTD, owner of the Two Bar: the Pitchfork made famous by Charles Belden's photographs" and the Warren Livestock Co., established by former Governor and U. S. Senator F. E. Warren. companies the Warren Livestock Co. was by far the largest.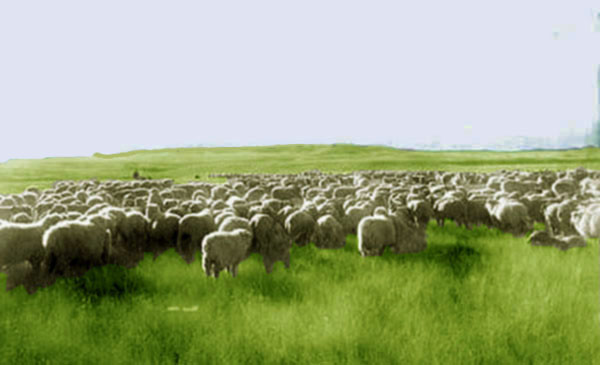 Sheep on the Warren Livestock Company ranch north of Cheyenne, approx. 1915.

By 1892 Warren Livestock Company was the largest sheep operation under individual ownership in the United State. It controlled some 284,000 acres between Casper and down to Greeley. Two years later because of the elimination of protective tariffs, the price of whool and lamb had collapses and the company still at the time the largest sheep company in the United States went into receivership. It was restored to health and remained in the Warren family until 1973.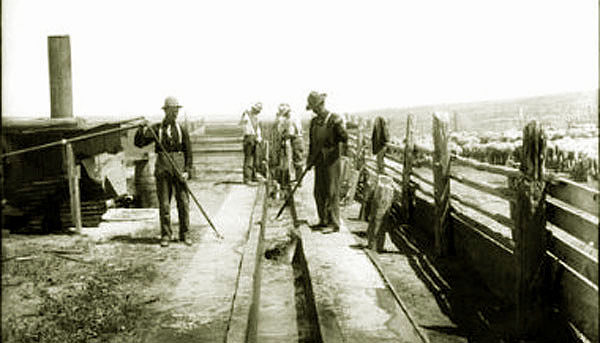 Plunge Dipping Sheep on the Warren Ranch, photo by J. E. Stimson.
Just as had the King Brothers, the Warren Ranch developed its own breed of sheep, the Warhill named after F. E. Warren and John Hill of the University of Wyoming College of Agriclture. The practice of sheep dipping originated in Scotland in 1830. By 1960, the company employed approximately 100 employees , owned 300,000 acres, produced 360,000 lbs of wool a year and 2,000 lbs of lamb a year.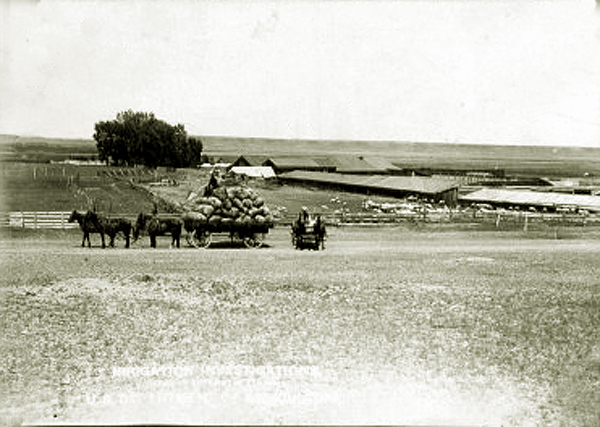 Warren Livestock Company sheep sheds and wool wagons.
the wool wagons were replaced about the end of World War I with White Motor Trucks pulling trailers and by Holt Tractors pulling wagons. Some of the buildings burned in 1980 and most are now gone.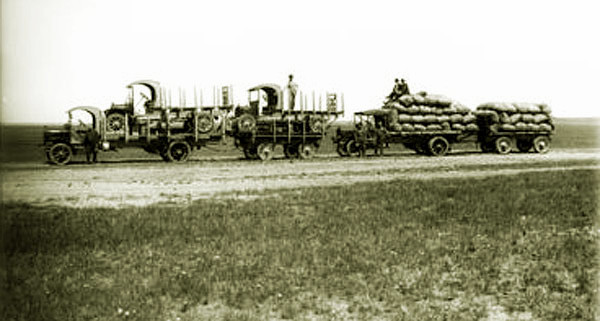 Warren Livestock Company, White Motor Trucks, approx. 1918.
The White Trucks had chain drive.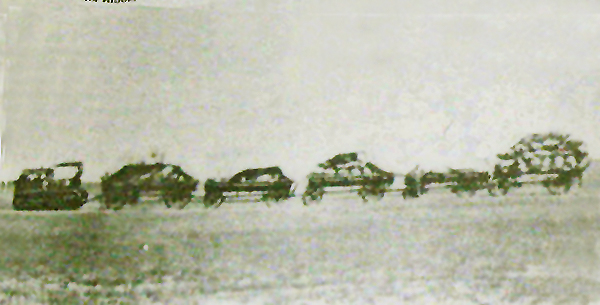 Warren Livestock Company, Holt Tractor pulling wool wagons, 1918.
The Holt Tractor was built by a predecessor of today Catterpiller Tractor Company.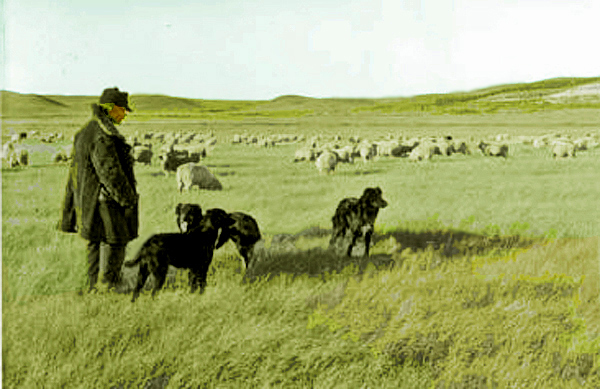 "Little Indian Joe Smith" with Dogs, Warren Livestock Company, undated.
Indian Joe was a sheepherder for Warren Livestock for sixty years.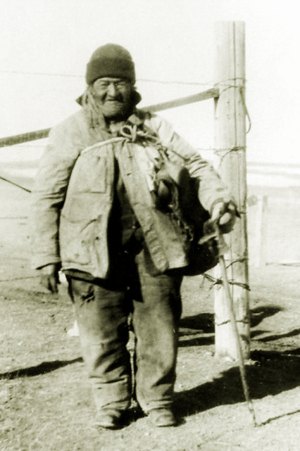 "Little Indian Joe Smith," Warren Livestock Company sheepherder, undated.
After he retired at an estimated age of 75 he continued on tending to the dog kennels maintain by Warren livestock. "Indian Joe" was employed when he was about age 15 after arriving at Camp Carlin with an army contingent from New Mexico. He claimed that he was American Indian, but, longtime foreman for Warren, David F. Cook (1896-1991) believed that he was Mexican. Indian Joe in actuality did not know his true age not who his parents were. He thought that his surname was "Smith" He could neither read or write and kept tract of days by tying knots in a string. Among items carried by Indian Joe was a heavy iron nut which he would use for killing rattlesnakes.
Sheepdogs were a necessary part of any sheep operation. David Cook later wrote:
From the time sheep were introduced into Wyoming, the dog has played an important role in the sheep industry. If not for the assistance of these faithful animals, herding large numbers of sheep would have been impossible. Many times the dog saved the lives of sheep and herders, especially in storms. When a storm suddenly appeared, the herder could not have gathered the herd and brought them to shelter had it not been for the dogs.
Over the years, Warren used many types of sheepdogs but finally settling on Australian shepards. The first two were a pair named "maggie and Jiggs."
Generally, each sheepherder was given two working dogs as well as a pup. In 1973, the Ranch was purchased by Paul Etchepare family. Of the sale, Cook wrote:
"Liquadation [sic] of an operation which was a family tradition built under pioneering conditions and years of hard labor and pride of accomplishment was a painful decision to make. However, when your own government is firing torpedos [sic] at your ship, its time to take to the life boats. Sell the ship while it's still afloat and let the other fellow salvage the spoils." As quoted by Nolting, M. Timothy: "Across the Fence: David F. Cook and 'Indian Joe'," Gering Citizen, May 01, 2014
The Warren Livestock remained the largest sheep company uperating under one name. Paul remained at the helm until his death in 1997. Operation then continued under John T. Etchepare (1939-2013) until the ranch's sale in 2000. Portions of the ranch have subsequently become part of neighboring ranches.
Next page, Decline of Sheepherding.