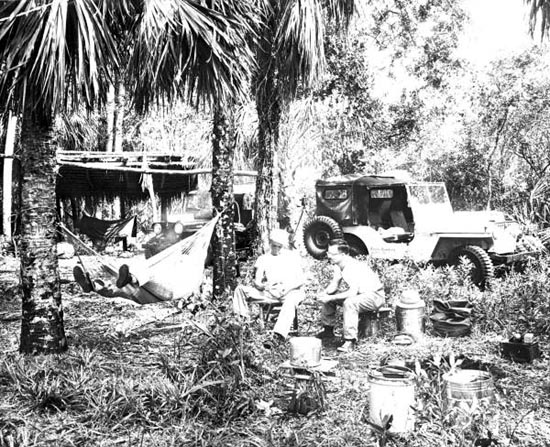 Everglades guide George L. Espenlaub (center), for Ross Allen's Reptile Center, with two other snake catchers, in Florida Everglades. Photo by Charles J. Belden, 1949, courtesy Florida Bureau of Archives, Tallahassee, Florida.
In Florida, Belden photos are not well known. The above photo is one of only three identified Belden photos in the Floria Bureua of Archives collection of over 130,000 scanned images. The other two identified Belden images in the collection are two postcards of the St. Petersburg Yacht Club.
In 1949, Belden accompanied Norwegian autohor Lock Eidew and documentary travel film producer Andre De La Varre into the Evergrades where De La Varre was filming alligator and snake wrangler Ross Allen on an alligator and rattlesnake roundup.
Ross Allen (1908-1981) operated a snake and reptile show at Silver Springs near Ocala, Florida. In the show, Allen would milk snakes, Seminole Indians would wrestle alligators, and tourists could buy live reptiles which could be taken back to New York to be released in the sewers. As a part of the expedition into the Everglades, Belden did an article for Florida Speaks Magazine. Several postcards also emerged out of the expedition.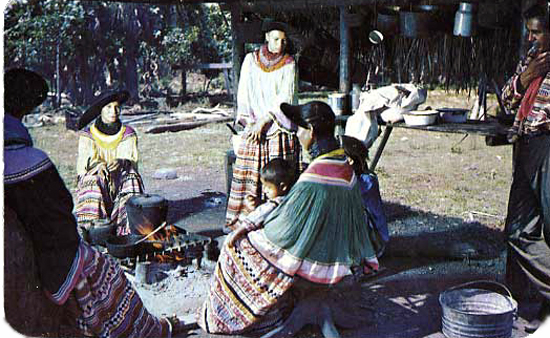 Seminole Family in the Everglades, 1949, photo by Charles J. Belden.
Marjorie Kinnan Rawlings, author of The Yearling and Cross Creek, overcame her fear of snakes after Allen took her on a snake hunt in Florida's cattle country. In Cross Creek she described the rattlesnake hunt:
The hunting ground was Big Prairie, south of Arcadia and west of the northern tip of Lake Okeechobee. Big Prairie is a desolate cattle country, half marsh, half pasture, with islands of palm trees and cypress and oaks. At that time of year the cattlemen and Indians were burning the country, on the theory that the young fresh wire grass that springs up from the roots after a fire is the best cattle forage. Ross planned to hunt his rattlers in the forefront of the fires. They lived in winter, he said, in gopher holes, coming out in the midday warmth to forage, and would move ahead of the flames and be easily taken.
Allen captured 32 snakes which he carried from the open wilds back back to civilization in the back of his coupé. At first Rawlings had the fear that he would carry them loose in the car. He actually caried them in a wire cage.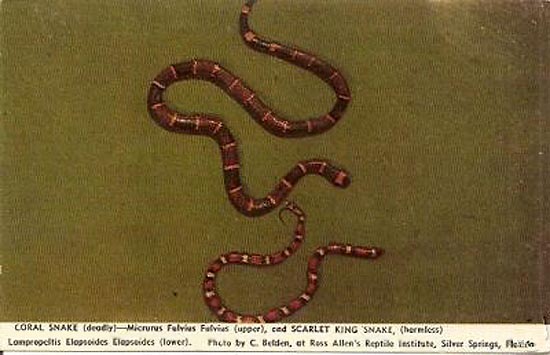 Postcard for Ross Allen's snake show, photo by Charles J. Belden.
The postcard was intended to illustrate the difference between the deadly coral snake (upper) and the harmless king snake (lower). Mrs. Rawlings, as indicated, had a fear of snakes. Digging in her garden one day, she came across a multi-colored snake. Realizing that her fear was irrational she played with it a while, allowing the snake to crawl between her fingers and petting the snake. In Cross Creek Mrs. Rawlings explained:
My determination to use common sense might have been my undoing. One late winter day in my first year I discovered under the palm tree by the gate a small pile of Amaryllis bulbs. The yard was desperate for flowers and greenery and I began separating the bulbs to set out for spring blooming. I dug with my fingers under the pile and brought out in my hand not a snake, surely, but a ten-inch long piece of Chinese lacquer. The slim inert reptile was an exquisite series of shining bands of yellow and black and vermilion, with a tiny black nose. I thought, "Here is a snake, in my hands, and it is as beautiful as a necklace. This is the moment in which to forget all nonsense." I let it slide back and forth through my fingers. Its texture was like satin. I played with it a long time, then killed it reluctantly with a stick, not for fear or hate, but because I decided to cure the skin for an ornament on the handle of a riding crop. I salted the hide and tacked it to a sunny wall. I showed it proudly to my friend Ed Hopkins, who was teaching me the Florida flora and fauna.

He said, "God takes care of fools and children."

The snake was the deadly coral snake. Its venom is of the cobra type, killing within a few minutes by a paralyzing of the nerves.
Mrs. Rawlings' fear of snakes returned.
Allen's show closed in the 1970's as a result of competition by Disney World. Across the street from Silver Springs was a western attraction known as "Six Gun Territory" which is now a shopping center. Allen later went to work for Drysdale's alligator ranch at St. Augustine. Allen had plans for reopening his show, but died of a heart attack a month before his new road-side attraction was to open. Dick Pope's Cypress Gardens also succumbed to competition from Disney but has nowed reopened as a "Legoland." attraction.
In Wyoming there are two varieties of rattlesnakes, the prairie rattler and the midget faded rattler. The snakes typically emerge from hybernation in the spring. They normally adopt a live and let live attitude, hiding as one goes by or attempting to escape. If surprised or stepped upon, however, it may strike in defense.
Possibly as a result of his trip into the Evergrades, Belden received a assignment in 1949 to accompany De La Varre to Europe to do still shots in conjection with De La Varre's travel one-reelers being produced for Warner Brothers. It was Belden's first trip to Europe since his 1909 trip. In conjunction with the trip, Belden also did some National Geographic articles and had an audience with Yugoslavian dictator Josef Tito. Belden secured a Poleroid photo of the dictator.
Two years later Belden and Vera returned to Europe apparently on their own dime, shipping their car ahead. This enabled the two to stay in rural areas in $2.00 a night rooms and dine on wienerschnitzel and "all you can drink" beer for 75 cents for the two. The trip, however, netted an article written in conjunction with Edgar Erskine Hume in the National Geographic, August 1951, "Palio of Siena," with 15 illustrations including 10 in color. The photos, among other things illustrated the colorful flags and costumes dating to the middle ages. August 1951. Upon his return, Belden complained about the cost of petrol on the trip, 50 to 60 cents a gallon.
Not withstanding the European trips, Belden was seemingly unable to maintain his photgraphic reputation which was founded on his photos from the Pitchfork. He resorted to the same means of gettings his name before the public as he had used in the 1920's and early 1930's. Belden entered photographic contests. In one 1946 contest sponsored by the State of Florida, he won a $200.00 prize for the best color photo. Belden's photo was of a bathing beauty holding a sea shell. The $500.00 grand prize was won by famed Sarasota photographer Joseph J. Steinmetz with a black and white telephoto of a pelican rising from the water Just as Belden had submitted photographs and accounts in the 1920's and 30's to Wyoming newspapers, he now submitted photographs and public relations items to local newspapers. He made presentations to local civic organizations. Gradually, however, the published news items as to his presentations were reduced from quarter page stories in 1943 until in 1957 a talk at a ladies luncheon rated one line. He provided photographs of local St. Petersburg scenes for a mural in the "Cactus Room" of La Playa Apartments, a 1940's hotel. A news release from the hotel indicated that the Cactus Room was done in "cushioned plastic more attractive and durable than leather." The cacti were lined up in front of Belden's photos.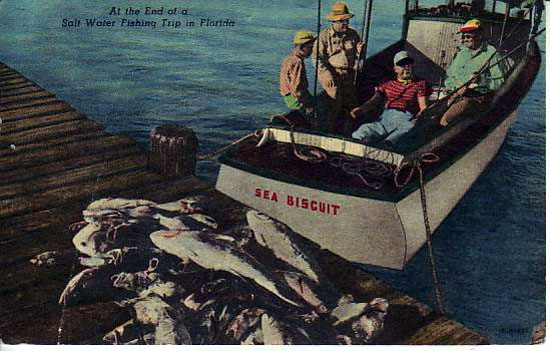 "End of a Fishing Trip in Florida." Photo by Charles J. Belden.
To keep his name before editors, he frequently wrote letters to editors commenting on photography appearing in their magazines. It was seeming all for naught. The letters to the editors were just about his only appearances in national magazines. He provided the State of Florida a photo of a tung flower for an agricultural bulletin. He continually wrote letters to editors noting his profession as a photographer. Nothing seemed to get his photography back on track. He was reduced to making photographs of salads for a Tarpon Springs Greek restaurant and advertising postcards of motels and restuarants to be sold or given away to tourists.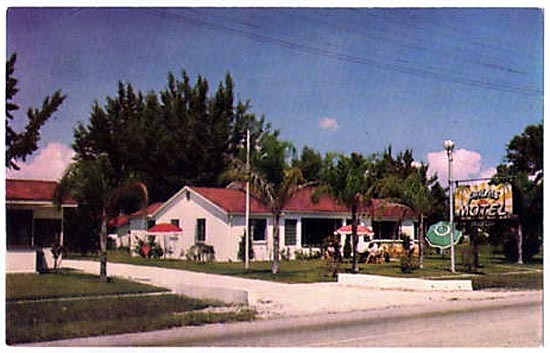 Advertising Postcard for the Palms Motel, St. Petersburg, photo by Charles J. Belden.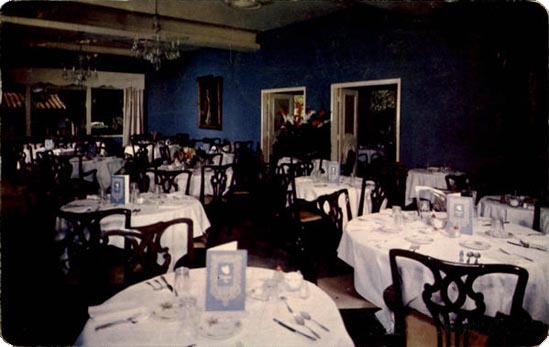 Advertising Postcard for the Wedgewood Room Restuarant, St. Petersburg, photo by Charles J. Belden.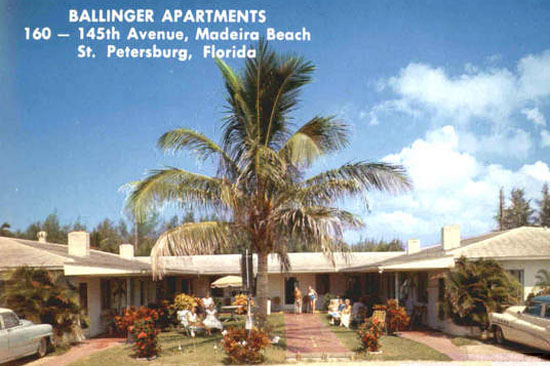 Bellinger Apartments, Advertising photo by Charles J. Belden.
No longer were Belden's photographs featured on the covers of magazines. No longer was Belden an acclaimed photographer. The stories that Belden's Florida photographs told were weak. Instead, they reflect on the tragedy of Charles Bleden.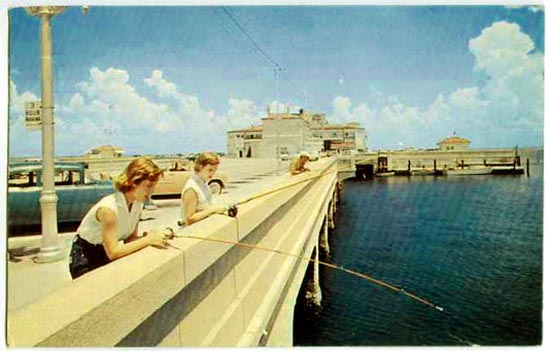 Young ladies at the St. Petersburg Municipal Pier, 1959. Photo by Charles J. Belden.
The building in the background has now been replaced with a structure that looks like an upside down pyramid. Fishing on the pier has for the most part been limited to a short area immediately before the building at the end of the pier.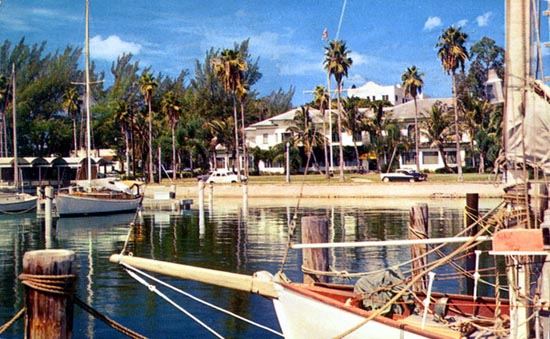 St. Petersburg Yacht Club. Photo by Charles J. Belden.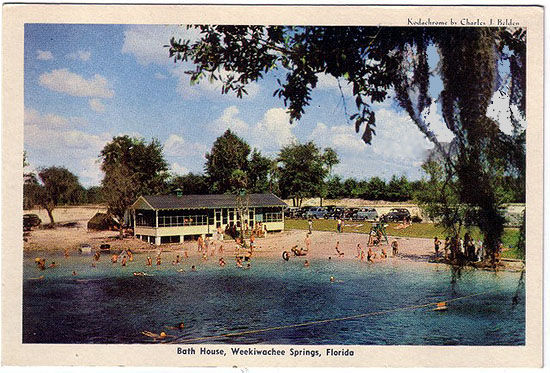 Bathhouse, Weekiwachee Springs.
In 1965, according to records of the Clerk of the Circuit Court, Pinellas County, Charles Belden became involved in two seperate lawsuits. One of the lawsuits was a class action against Belden, the adjacent Tides hotel, the First National Bank, and others by 400 residents of a nearby subdivision. The ten-foot easement had been blocked by a gate.The Town of Redington Beach intervened on behald of the residents. Belden and the then owners of the Tides with local residents were as popular as the proverbial skunk at the garden party.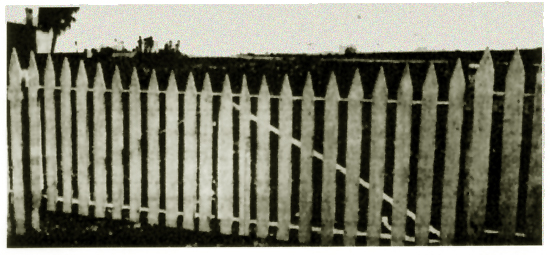 Gate blocking access to easement between Belden property and the Tides Hotel.
The lawsuit contended the residents had been improperly cut off from the easement providing access to the beach. Belden and the Tides lost and were enjoined from interfering with the use of the easement. The Town replaced the Bank as trustee of the eastment. On January 26 1966, allegedly in poor health, Charles Josiah Belden went into the darkroom of his North Redington Beach home, took a Colt .25 automatic and fired a single shot into his forehead. He died on February 1. At one time, Belden rated a feature article in Time Magazine. The United Press account of his death consisted of four sentences. On February 3, The St. Petersburg Evening Independent published an article by a friend, Paul Davis, summing up Belden's life. Belden was, Davis wrote, "a very nice guy." Seven years later Verna died. Frances Phelps Belden remained in Wyoming and died in 1984.
Belden's imagery still influences us today. In an east coast western-themed resuarant, amongst yokes, saddles, and cowboy boots used as decorations, the writer has observed Belden photos. Currently, large collections of Belden photos are held by the Charles J. Belden Museum of Western Photography, 1947 State St., Meeteetse, the Draper Museum in Cody, and the American Heritage Center, University of Wyoming, Laramie. The museum in Meeteetse also has exhibits of early life in Meeteetse, the back bar from the Meeteetse Hotel, and a grizzly bear, "Little Wahb," who killed some $20,000 of livestock before he was killed at Sage Creek a short distance outside of town on Oct. 3, 2000.
Next Page, Powell and Earl Durand