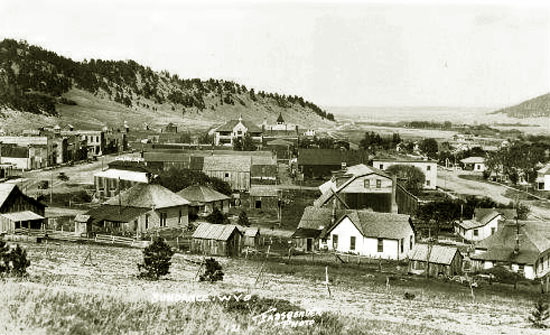 Sundance, approx. 1930.

The large building in the distance is the school ("Old Stoney"), constructed in 1923. Classes in the school were discontinued in 1971. See next photo.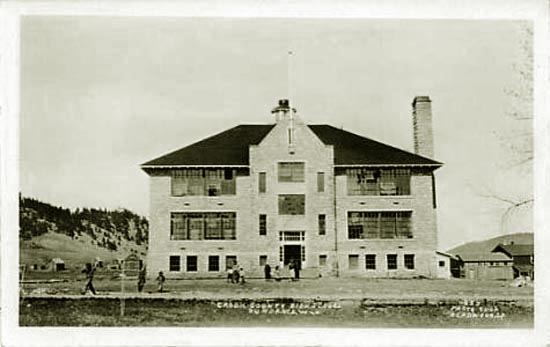 Crook County High School, undated.

The School building is now on the National Register. It was designed by noted Montana architects Johan "John" Gustav Link and Charles S. Haire. The two are regarded as the two most important Montana architects of the first half of the Twentieth Century and were responsible for the design of 18 of Montana's fifty-six courthouses. Additionally, they designed a number of fraternal lodge buildings throughout Montana and were the supervising architects for the construction of the Montana Statehouse.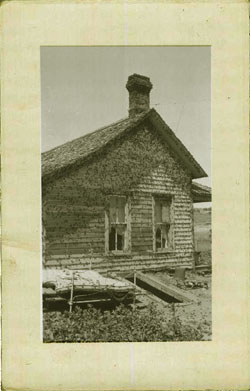 Mormon Crickets on house, Sundance, 1937.
Julian Ralph noted in his description of Northeastern Wyoming that it was at the time given over to large cattle companies primarily centered on the Belle Fourche. Conventional agriculture had, in his words, crept in as "an overflow" from Nebraska, but with no railroad agriculture was only for self consumption. Agriculture, like any pursuit, has its difficulties.
In 1931, an outbreak of Mormon crickets began. Such outbreaks can last as long as 16 years and appear to be associated with severe droughts. During World War I, a drought commenced over the Great Plains. By 1932, "dust bowl" conditions began in Oklahoma and Western Texas. In May 1934, the winds began to pick up soil from Montana and Wyoming and formed a great brown cloud. The cloud moved eastward. Over Chicago some 12 millions tons of dust fell. Skies were darkened over Buffalo, New York. Dust fell in Savannah, Georgia. The dust storm was reported by ships at sea as much as two hundred miles out in the Atlantic.
In 1937, agriculture in portions of Wyoming was devasted by an invasion of crickets (actually a flighless grasshopper, a form of katydids). They derive their their name when in 1848 they began to devastate Mormon crops in Utah. They were described as being in the millions, eating the fields of new corn, beans, and other crops. In June of that year, however, large flocks of seagulls appeared from the Great Salt Lake and fed on the crickets. Thus, the settlers' crops were saved. The seagull has now been designated as the state bird of Utah. A monument to the bird has been constructed in Temple Square in Salt Lake City.
The crickets can cover one half to one mile a day and in a season devastate an area twenty-five to fifty miles long. They can easily destroy crops of wheat, barley, alfalfa, and sugar beets. They can even eat the siding off houses. In the 1937 outbreak, crop damage in Wyoming was estimated at over $375,000.00 and some $500,000.00 in Montana. In 1938, the peak year of the cricket invasion, some 19 milion acres of crops in eleven states were devoured.
Mormon settlers in Utah reported that Native Americans would herd the crickets and roast them for food. Near Ten Sleep in Wyoming, a cave has been found with the remains of roasted crickets. Carbon dating indicates that the remains date back approximately 2,000 years.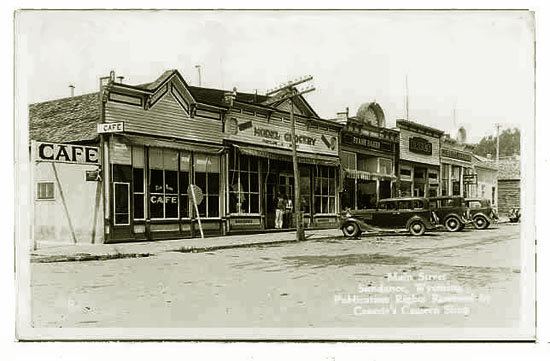 Elkhorn Cafe and Model Grocery, approx. 1934.

Left to Right, Elhorn Cafe, Model Grocery, Frank Baker's Store, C.D. Robert's Hardware.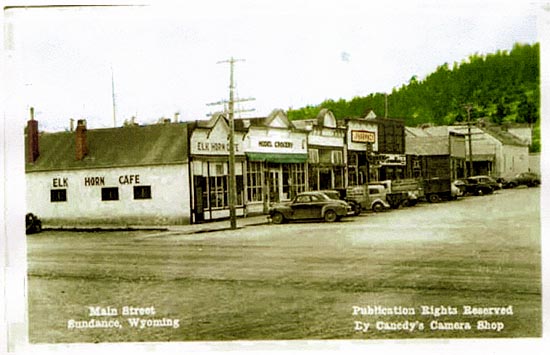 Elkhorn Cafe and Model Grocery, approx. 1941

Left to Right, Elhorn Cafe, Model Grocery, Lee's Drugs, Gambles.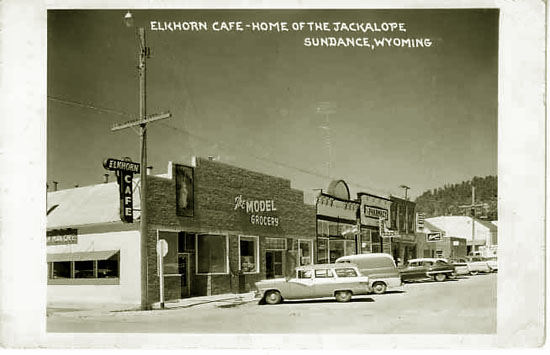 Elkhorn Cafe and Model Grocery, 1957.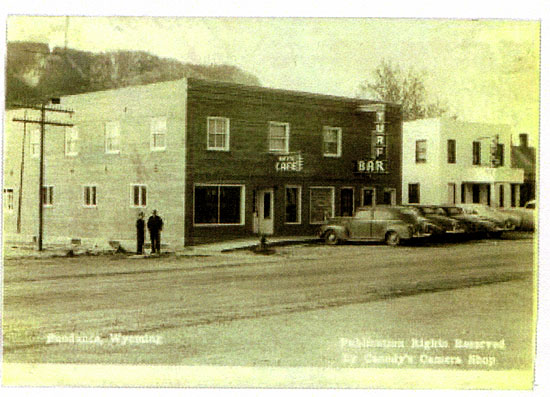 Ray's Cafe, approx. 1941.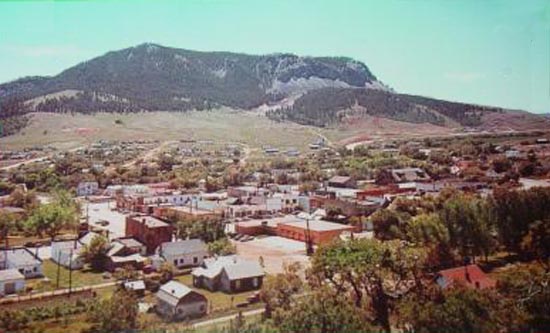 Sundance, circa 1970's.

Next page: Moorcroft.